Copper & Olive Co
Neutral California Style
Sustainably made Home decor, Art & Apparel with an emphasis on a neutral California style, Modern design with natural warm tones and soothing simplicity made for the places & spaces you love.
TEXTURED ART MADE SIMPLE: THE ULTIMATE DIY GUIDE
LEARN HOW TO MAKE TEXTURED ART!
Are you tired of feeling stuck in your art practice? Do you want to take your creativity to the next level? Our Textured Art E-Guide is here to help.
Our guide is packed with tips and techniques for adding texture to your artwork, from using different materials to experimenting with new styles. With our easy-to-follow instructions and beautiful examples, you'll be able to create stunning pieces that stand out from the crowd.
PURCHASE E-COURSE HERE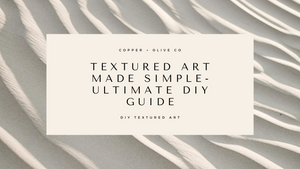 New Blog Post
---
A few weeks before Thanksgiving we enjoyed some time at a cabin Lake Arrowhead. The views were breathtaking, and we were able to slow down and soak in some memories...